CALENDER 2014
MAY 2014
May 13th 2014 - Watch for my art in the UPCOMING MOVIE, The Longest Ride -. Today I received a call from 20th Century Fox for permission to use five of my paintings in the upcoming movie, The Longest Ride by Nicholas Sparks. Thrilled with the opportunity to supply some of the art work for scene decoration in this upcoming film. My art work will be used in the movie The Longest Ride, as set dressing in a scene that takes place in an art gallery that one of the main characters is an intern. Very thankful for the opportunity!! Thank you 20th Century Fox for choosing my artwork for The Longest Ride!
MAY 2014 (continuing to Sept 2014) -- WILD THINGS FANTASY BY MICHEL KECK AND LINDA MITCHELL EXHIBIT: - This exciting exhibition features fantasy artwork by Michel Keck and Linda Mitchell. Museum Curator, Michael Crowthers has invited the artists and will help create a very unique atmosphere in the museum. Each artistís works evoke images from an imaginative and surreal world. These works are both visually stimulating and extremely well executed. Wild Things will entice families and art lovers alike by creating another world for viewers to step into at the Art Museum of Greater Lafayette
APRIL 2014
My dress Here and Now with Art on Fashion is currently sold out but I will be working with them currently to bring more of my designs to their dresses so keep checking here for updates.
April 29th - Watch for my art in an upcoming epside of House Hunters - Where Are They Now? I was contacted by HGTV today asking permission to use a couple of my works in an upcoming episode of House Hunters - Where Are They Now? Two of my works, my dachshund and doberman collage works will be used as set dressing for a backdrop of one of the couples they will be interviewing for their show. Thank you House Hunters!!!
JANUARY 2014
Jan 10th 2014 -
UPCOMING MOVIE CHAPPIE: I rec'd an email from the set designers working on the upcoming movie Chappie with Sigourney Weaver and Hugh Jackman to request permission to use the artwork of one of my collage dogs as dressing in the movie. Sigourney personally requested the work of my pug collage to be a part of the set dressing in their office in the movie. I'm very honored to have my art as part of Ms. Weaver's personal art collection as Yoda the pug is now part of her personal collection. She also graciously took the time to send me a thoughtful thank you letter regarding my collage piece. Yes, she called me Michael... but in 43 years nobody has ever gotten it right... so its all good! Look for my work Yoda in the Chappie coming to theatres soon :)
---
ART EXHIBITIONS 2010
West Coast Art & Frame Show - Las Vegas, NV (Jan 2008)
ART CHICAGO - Floor 12 Booth 167 (April 30th-May3rd)
Combining Grace - Group Show - 473 Broadway Gallery SOHO New York - (June 11th 2010)
more to come.. please check back
ART EXHIBITIONS 2008
West Coast Art & Frame Show - Las Vegas, NV (Jan 2008)
Studio School & Gallery - Indianapolis, IN (Feb 9th 2008)
NY Art Expo - New York (Feb. 28th - March 3rd)
Art Exhibition @ Pacific Design Center Suite B261 @ PDC Los Angeles (March 24th-28th)
Art Exhibit at High Point Market - High Point, North Carolina (April 7th -13th) - Showroom G-376 in IHFC
PAC Group Show - Lilian Fendig Gallery (Carnegie Center) (April 18th - June 13th) - Artist reception April 18th.
The Artist Project (part of Art Chicago) - Chicago, IL (April 25t-28th) - Booth 1091
Cuneo Gardens Art Fest - Vernon Hills, Illinois (May 24th-25th)
Deerfield Festival of Fine Arts - Deerfield, Illinois (May 31st - June 1st)
Easton Art Affair - Columbus, Ohio (June 27th - 29th)
Magnificent Mile Art Fest - Chicago, IL. 2008 - (July 11th-13th)
Highwood Fine Art Fest - Highwood, IL 30 m. north of Chicago - (August 16th-17th)
Shadyside (The Art Festival on Walnut Street)- Pittsburgh, PA - (Sept 20th-21st)
Homecoming Exhibit - Uncle Freddy's Gallery - Hammond, In (Oct 17th)
Halloween Art Bash - The Raw Artist Gallery - Rensselaer, IN (Oct 25th) (all attendees must be in costume!)

(more shows & exhibits to be added soon please check back for full schedule)
---
July 2008:
I'm in the cover story interview 'Women in Art' in Art Business News this month - check it out here . I had a great time doing the magnificent mile art fest in chicago this month - LOVE THIS SHOW! the collectors in chicago are AMAZING! huge thanks to all who came out to support my art and all of the artists at this event. this years show was even better than last year - amazing weather, amazing art and a large crowd! --- taking some time off at the end of the month for a little vacation with the boys
June 2008:
THANK U to everyone who came out to the easton art affair in Columbus Ohio - it was a great turnout despite the off and on weather. -- getting ready for the mag mile show in Chicago next month - c u there!
May 2008:
busy month for me!! two art festivals at the end of the month in Illinois.
April 2008:
tons of great stuff going on this month! come see my art in the IHFC building in High Point N.C. during high point market. (this is a show to the trade - designers, dealers & retailers wishing to carry my original works or line of giclee prints please come see us in showroom G-376). takes place april 7th through 13th.

if you live in northern or central indiana please come out to the artist's reception for the PAC group art show at the Lilian Fendig Gallery in the Carnegie Center in Rensselaer, IN. on April 18th. this show will run until june 13th if you can't make it out the night of the artist's reception.

at the end of the month i'll be attending the The Artist Project which is a juried fine art show in the merchandise mart in Chicago - this is the solo artist's section of Art Chicago. takes place april 25h - 28th 2008. you can get more info on the artist project at http://www.theartistproject.com

i was chosen as artist of the month this month (april 2008) at boundless gallery online.. so check me out there too!
March 2008:
pick up a copy of Art Business News this month for some info on yours truly. Art Business News interviewed me a few weeks back for an article they were working on on abstract art. It is out now in their current issue.

been working in the studio like crazy lately.. have a large exhibit coming up in Los Angeles at the end of the month!! really excited about it as I haven't exhibited in L.A. yet but have quite a few collectors there! myself and three other artists are in an art exhibit that is taking place during West Week in the PDC in Los Angeles. I'll update you with showroom location for the art exhibit through my newsletter. hope you can make it!

right after my exhibit in Los Angeles I believe I will be exhibiting at High Point Market in North Carolina (should know in a week all details).. I'll post as soon as I get the info!
Feb 2008:
on the 9th of this month you can come out to The Studio School & Gallery in Indianapolis to view my works in person. The Studio has relocated and having a gallery reopening! hope to see you there.

At the end of this month a couple of dealers that represent my works will be exhibiting for me at Art Expo NY this year. (expo runs from Feb. 28th-Mar 3rd) - collectors I will send out newsletter for booth location -- THANKS FOR YOUR CONTINUED SUPPORT!
Jan 2008:
busy painting this month.. many art exhibits and shows coming up for 2008!
---
ART EXHIBITS, SHOWS & EVENTS FOR 2007
Art Expo - NY (march 2007)
Henderson Art Fest - Henderson, NV (may 2007)
Magnificent Mile Art Festival - Chicago (July 2007)
Art Expo - Las Vegas (Sept 2007)
One of a Kind Art Show - Chicago (Dec 2007)
GALLERY SHOWINGS 2007
Musch Gallery - Gallery Opening/Art in the Alley - Rensselaer, Indiana (Aug 2007)
Studio School & Gallery - A Woman's Passion Show -Indianapolis, Indiana (May 2007)
Chagall Gallery - Gallery Opening - Edmonton Canada - (May 2007)
Dec 2007:
back to the windy city for december. :-) (I LOVE CHICAGO!!) Come see me at the juried One of A Kind Show in Chicago! For four days only you will find thousands of one-of-a-kind items each made by hand by over 400 of North Americaís most talented fine artists and fine craftspeople. 8th floor of The Merchandise Mart - for directions click here
Sept 2007:
VEGAS BABY! c me at the Vegas Art Expo - booths 464-564 @ The Mandalay Bay Resort & Casino. Sept 27th - 30th. I'll be bringing new works from my new mixed media series - name your poison, as well as new works from my wish list series.
updates a couple of pics from the show...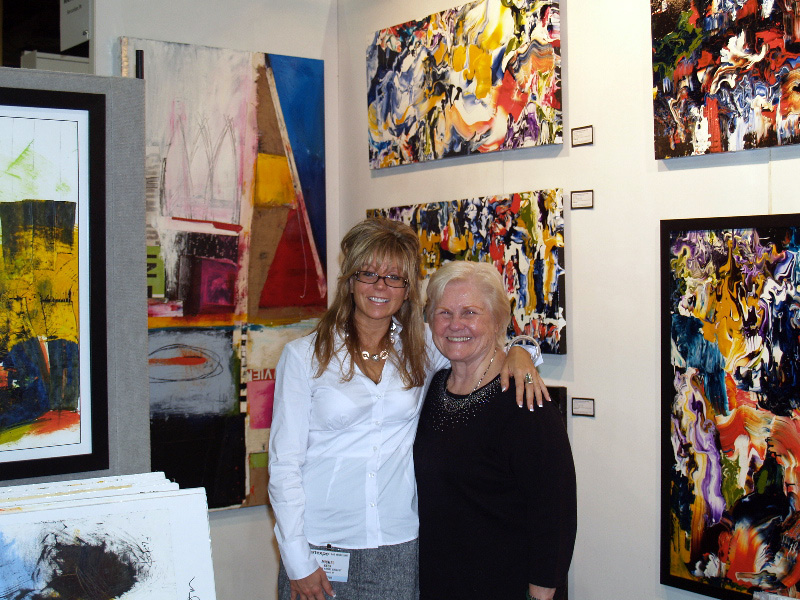 August 2007:
sticking around my neck of the woods this month.. a great local photographer, Ryan Musch, has a new gallery opening in here coinciding with Art in the Alley - I've been graciously asked to participate - see you there!
July 2007:
For my collectors in the Chicago area come and see me at the Magnificent Mile Art Fest July 13th, 14th and 15th. look forward to seeing you there!!
June 2007:
The post-tribune put together a nice article on yours truly. They came out to the gallery snapped some shots and included it in their lifestyles section Thursday June 21st. - if you missed it you can read it online here.
May 2007:
May is a crazy month for me! Tons going on here in my personal world and art world. I will be participating in an art shows in Indy and Nevada this month. More info on the shows to come... stay tuned..
April 2007:
I'll be participating as a featured artist (1 of 8) out of a total of 40 contemporary artists whose works will be shown in Edmonton Canada April 18th for an invitation only art event. Avenue magazine in Canada did a feature for the art in the exhibit. The show was a huge success and it received rave reviews from the attendees! I will be participating in future shows with Chagall and will share the dates here. I was unable to attend the event in person with my art for this show but will attend the future show in Canada in person. Thanks to all of the attendees for making it great!
March 2007:
I will be attending the New York Art Expo March 1-5 2007. If you are attending you can view my works in person at booth 441. - Updates: (april 1st 2007) Thank you to everyone who came out to the Javits Centers in March to support my art at the NY Art Expo. The expo opened many new doors for me and was more than I what I anticipated! Participating in the NY art expo introduced me to some fabulous new collectors as well as art dealers both in the U.S. and abroad wishing to represent my works.
Feb 2007:
My artwork will be featured with another self-taught artist, Purvis Young, in an upcoming episode of Alive and Well television. Below are some behind the scenes shot of Alive and Well with Michelle Harris.
You can read the full press release on the upcoming episode of Alive and Well here
Jan 2007:
Pick up an issue of Woman's World for the week of Jan 23 2007 and there is a small blurb about yours truly on page 12. The article entitled, Amazing Natural Remedies, is on the subject of how doctors in conventional medicine mostly study drugs and surgery but that research is proving alternatives such as dietary change are reversing illnesses. I was interviewed a few months ago after the reporter found out about my story from my rawandjuicy.com web site.
---
KECK EBAY ART AUCTIONS

Phone: 219.306.9474